So I'm only adding these swatches because
Wangie
asked me to (I was only planning on sharing them in a locked space before). This is a teal look I made using some of the new products from Mac's To the Beach collection, namely Float on By and Flurry of Fun (Uh-Maize-Ing color). I also used a solid blue (Royal Wink) and Black with this look. This reminds me a lot of my expectations from Blast 'O' Blue (C-shock).
Here I was earlier in the day w/o Royal Wink.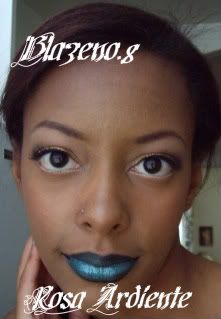 I really had a lot of fun with this, but I don't plan on me posting things like this too often.