I can't believe that spring break is almost over! Well it's a good thing that a friend has a b-day at the end of it or else I would have felt cheated. These colors are mostly from the Spring Color Forecast collections (Coral and Bronze) with some extras thrown in. I just got the perfect base for pinup and Classic Hollywood glam looks for darker skin tones from Urban Decay and wanted to give it a spin.
I got the inspiration for this look from Specktra's x0besoz.
And just to be obnoxious... sunglasses indoors.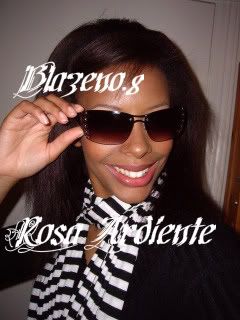 Also here is a plug for my friend's new
art fashion blog
. She will post a new entry every Sunday. Her regular website is listed under the ABOUT section. I hope you enjoy her work as much as I do!