Today I went to Mac to check out Venomous Villains and make my preorder. Maleficent was the only sub collection that had me smitten as a whole in so far as the concept behind the products and the reference to other characters. I thought the whole idea of the nail polish was really unique in that it represented the fairies other than Maleficent: Flora (Bad Fairy), Fauna (Mean and Green), and Merryweather (Formidible!). I was going to limit myself to two nail polishes, but as it turns out I didn't buy a single one. Why? Because they all seem so dupeable. This is my guess as to what went into each product.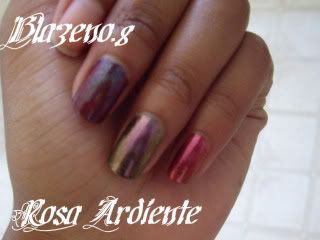 from right to left
Bad Fairy:
Magenta base with Copper Reflects and Very Pink Reflects
Mean and Green:
Green base with Gold Reflects and Pink Reflects
Formidable!:
Burgundy base with Teal reflects
I ended up only buying "Wrong Spell" to go with my black lipsticks and MUFE 49. I was hoping it would be super vampy... kind of like YSL Pur Black lipgloss at a much cheaper price.