I am back from my mini vacation. Today I went down to check out the after Christmas collections and something really struck me. This really seems like the Riveting Collection cut in two. The mix of the metals, frosts, and pop of bright colors is what did it for me (although Riveting did have more matte colors). But onto the collections.
Cham-Pale
Very Important Plaitnum (left) and Soiree (right)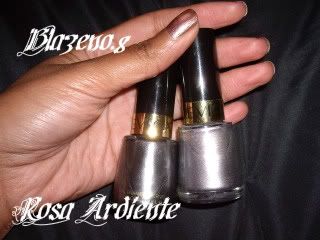 Revlon Steel-Her Heart (left) and Revlon Silver Screen (right)
I expected to like nothing from this collection and I was almost dead on except for falling in love with the nail polishes. I found that Soiree reminded me of a shiny gold version of Studded (silver from Riveting). I also liked Very Important Platinum, but it reminds me too much of Revlon's Steel-Her Heart and Silver Screen which also have very poor drying times. I guess it's just something about metallic polishes.
I also decided to pick up Feline eye kohl as I need a new black pencil and everyone raves about this one.
The Highlight Powders were way too glittery with too little pay off. The paint pots are nothing new under the sun as there are some shadesticks in those colors.
Stylishly Yours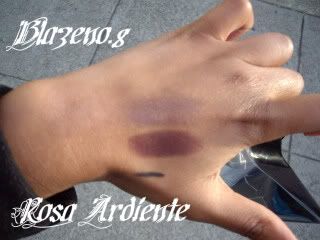 I was also looking to avoid a lot from this collection. I only was interested in the paint pots and that's all I got. I tried the Beauty Powders, but they were very boring. I find that if I need subtle shimmer, I will stick to other products like the magically cool powder. I got Dark Diversion (bottom) and swatched it next to Macroviolet (top).