So this was actually a bit of a surprise for me. I thought I was going to redo a different collection until I stumbled upon something that I have been dying to get for quite some time: a nice black lipgloss. *drool* MUFE, I love you so much right now.
Play it up
I definitely think that the one thing that this collection really hit on was harmonizing textures. There were many black products (duh) with different textures: Glitter (Cinderfella), Gloss (Blackware), Matte (Midnight Media), Cream (Black CCB, Black Knight). I played up texture variation on the face with mainly matte and satin shadows and then glossy lips.
Play it down
I played down the punk color variation that was in the collection. I absolutely loved it, don't get me wrong. I just felt it would be too much in one look.
Stay the Same
I opted for the lip theme of the collection; dark lips, neutral face.
Make a Change
One thing I did not like about Style Black is the sheerness of the colors. I want high impact and I feel that color intensity was sacrificed just to make the products more marketable. I want in your face black.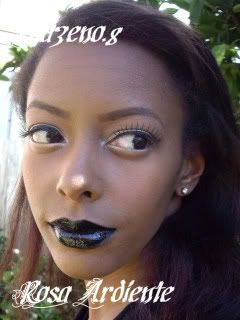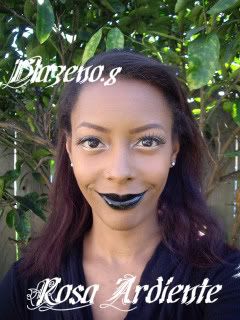 Look inspired by: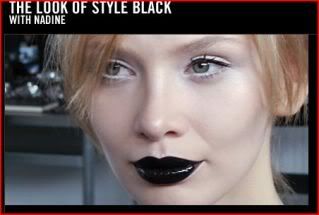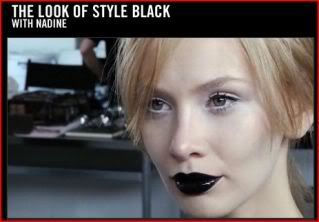 and this: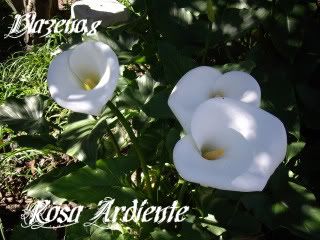 Face:
Smashbox Photo Finish primer, Conealers, Foundations, Magically Cool Liquid Powder in Cajun, Ripe Peach Blush Ombre
Eyes:
UDPP, NYX Jumbo Pencil Milk, Concealer, UD Cream Shadow Suburbia, Bamboo, Bisque, Show Stopper, Saddle, Flip, Manila Paper, Sephora Liquid Eyeliner in Black, Falsies
Lips:
Estee Lauder Black Pencil Liner, Black Radience Onyx lipstick, MUFE Metal Lab Gloss M00