I have been pleased with the new MAC collection "Color Pop". It's an official collection, but it's one that brings professional and limited edition colors to the permanent line. So it's not a limited edition collection. There were eight colors released in all (you can check either Temptalia.com or Specktra.net for more information about which ones were released).
I ended up getting:
Lucy Green- frosted midtone lime (veluxe pearl)
Brick Red- orange red (matte)
Golden Rod- bright marigold yellow (satin)
Atlantic Blue- bright violet blue (matte)
At the same time I also bought Chrome Yellow.
Here are the swatches of the warm colors over Urban Decay Primer Potion: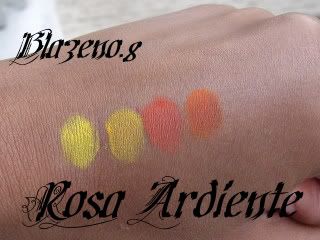 Left to right: Chrome Yellow, Goldenrod, Brick Red, Orange
Here are some other warm colors that have been added. Left to Right
Chrome Yellow, Marigold, Brick Red, Orange, Bright Future, Firespot, Off the Page, MUFE 99 (red)
I can't wait to do a Valentine's Day look using Red Brick. ;)
Other than that here is something from the Korean boy band "Super Junior". This song is called "Super Girl" and it's really cute. It's about a nerd who goes to a party and finds the girl of his dreams. I really want to buy their CD when I get a chance.