So I had the chance to go to the unveiling yesterday and it was amazing. There were nice snacks and a fiddler who was accompanying the soundtrack that was playing in the store. The waiters were also in costume which is always fun. :) The place was packed and I'm glad that I knew what I was interested in that means that I could get in and get out very quickly. We got a little story book with the concept of A Tartan Tale and we got tartan cloth pins. :)
Me waiting in line with my friends.
I saw the quads and prepackaged brushes and I wasn't that impressed. I think that some of the eyeshadow quads were nice, but I am just against buying them in the first place because of all of the repeats. I ended up buying only things from the color collection.
The texture of the eyeshadows are amazing. They're very soft and buttery and I imagine that they can be used like pigments when mixed with a bit of mixing medium. I bought Semi-Precious and plan on pairing this with Violet pigment. I passed on the other ones because many of them seemed to light for me (I like midtones) or just didn't stand out.
I got Moonlight Night pigment which is a gorgeous dark green. It's very hard to find good greens and I think that this is great deep green. I plan on using this to deepen up humid and will use it with eyeshadows like Humid and Eyepopping. Even some teals and yellows. I wanted to like The Family Crest, but I actually have Guerlaine's loose eye kohl in brown which I find to be a better color. I passed on Later from Alice and Oliva and I decided to pass on it again. It reminds me too much of Entremauve/Push the Edge mixed with Dark Soul.
I tried both My Highland Honey and Her Blooming Cheek. I found that My Highland Honey was a cute color, but very run of the mill and probably not the most flattering for my skintone. I can imagine that very many people will be afraid of a bright color like Her Blooming Cheek, but when applied with a light hand, it is so incredibly beautiful and gives a nice pop of color. Moderation is key.
Of the Dazzleglass cream, only one stood out to me which was Radiant Jewel. I didn't even try the others, but that was mainly in part due to lack of lip brushes to try the products.
The lipsticks were very nice. I compared Impassioned and Full Fuchsia and they were different (which made me glad). Impassioned is much more of a coral and Full Fuchsia is just that, bright fuchsia. Deepest wish was nice, but I think that there are other colors that are similar to it in the permanent line. The other colors didn't really catch my fancy because I'm an amplified cream person, not a glaze or luster person.
I didn't try the pearglides because I don't like the texture and I didn't try the nail polishes because none of the colors caught my fancy.
The FOTDs include Her Blooming Cheek and My Highland Honey blended together and Radiant Jewel over Full Fuchsia.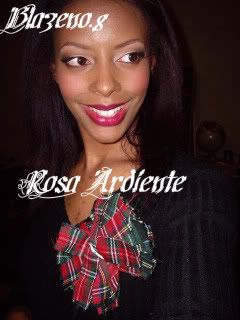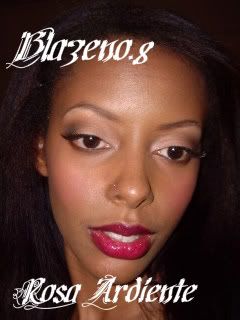 And just for kicks, here is what my toenails looked like. Robert Burns style plaid.